Virgin Islands Babymoon Packages
The British and U.S. Virgin Islands make excellent destinations for those seeking an island babymoon. Dramatic mountain vistas and great beaches combine with excellent shopping and fine dining, to create a wonderful babymoon getaway.
Choose from the romantic seclusion of Peter Island to the bustling harbor of St. Thomas. There are great resorts throughout the Virgin Islands for your babymoon getaway.
Don't have the time to research all of your babymoon options?
No problem! Save time and money planning your babymoon with Destinations to Travel™ - they'll take care of all the details for you!
Say goodbye to aches and pains,
and get the rest you need...
PLEASE NOTE: A warning has recently been issued by the CDC advising pregnant women not to travel to certain parts of the Caribbean and Latin America. Please visit the Babymoon Guide Blog for more information.

Peter Island Resort
Peter Island, British Virgin Islands
This 1,800 acre resort, located on its own private island, prides itself in immersing guests in "relaxed elegance". Enjoy the romantic seclusion of a beachfront cove or simply soak up the sun at one of five magnificent beaches.
The Peter Island Babymoon Package includes:
Five nights in either a beach front junior suite or an ocean view room
Two spa treatments specifically tailored for pregnant women
A de-stressing massage for the dad-to-be
A picnic lunch and non-alcoholic sparkling grape juice on one of Peter Island's 5 beaches
Special turndowns nightly, including a baby album
All meals and activities such as snorkeling, windsurfing, tennis and more.
Read Reviews of Peter Island Resort at TripAdvisor
Learn More About This Virgin Islands Babymoon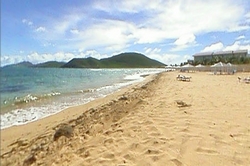 Saint Kitts Marriott Royal Beach Resort
858 Frigate Bay Road
Frigate Bay, Saint Kitts
Relax and unwind at this magnificent beachfront resort on the romantic island of St. Kitt. Multiple outdoor swimming pools, white sand beaches and emerald waters all await you here. The resort offers dining in seven different restaurants along with nightly entertainment. If you're feeling lucky, be sure to visit the resort's Royal Beach Casino.
Since babymoons are all about pampering, be sure to book a prenatal massage at the on-site Emerald Mist Spa.
Read Reviews of the Saint Kitts Marriott Royal Beach Resort at TripAdvisor
St. Kitts Marriott Royal Beach Vacation Packages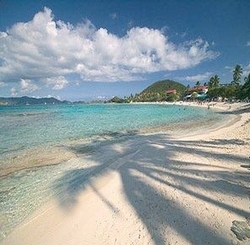 Sapphire Beach Condominium Resort
St. Thomas, U.S. Virgin Islands
Set on a half-mile stretch of sandy beach, the Sapphire Beach Resort offers spacious, luxurious guest suites and villas for your babymoon getaway. Lounge by the freshwater pool overlooking the Caribbean Sea or take a short ferry ride to St. John for an unforgettable day of snorkeling at Trunk Bay.
The Sapphire Beach Resort's "Romance at the Beach" package makes an excellent Virgin Islands babymoon getaway.
The package includes:
A romantic dinner cruise for 2
A welcome bottle of wine in your room (if you prefer,request a nonalcoholic beverage at the time of booking)
Fresh bouquet of flowers on arrival
An in-room treat of chocolate covered strawberries
Read Reviews of the Sapphire Beach Condominium Resort at TripAdvisor
Find the Best Rates at Sapphire Beach Resort
Hillcrest Guest House
St. John, U.S. Virgin Islands
With just six suites, the Hillcrest Guesthouse offers an intimate babymoon retreat. Its location – on a hill overlooking the Caribbean Sea and Cruz Bay – affords stunning views, with the convenience of restaurants, stores and cultural excursions just a short distance away.
The suites are well equipped, with air-conditioners, TV/DVDs and either a kitchenette or full kitchen facilities, so you can prepare your meals as and when you want them. A full dining set allows you to eat in comfort and free Wi-Fi access is provided.
A complimentary menu including breakfast items is placed in your suite prior to arrival. Request the babymoon package when you book, and you will also receive a pedicure coupon and fruits of your choice.
Read Reviews of the Hillcrest Guest House at TripAdvisor
Learn More About this Pre-Baby Vacation Destination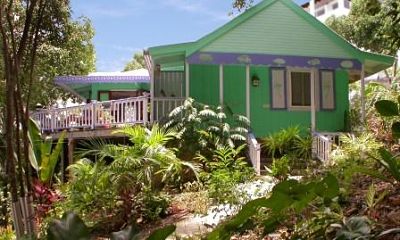 Garden by the Sea B&B
St. John, VI 00831
If you're looking for a Virgin Islands babymoon where you can truly relax and get away from it all in a peaceful and intimate setting, then the Garden by the Sea B&B may well be just the place for you!
Located in the heart of Estate Contant and Enighed, just a short distance from Cruz Bay and Frank Bay Beach, this beautiful Caribbean home is brightly decorated with local art and surrounded by lush tropical vegetation.
You can choose to unwind and enjoy nature, with lots of nesting birds, peacocks and iguanas in the vicinity... or you might like to take a 10 minute stroll into town, where you can take advantage of the shopping and restaurant facilities.
The Garden by the Sea B&B doesn't offer a traditional babymoon package, but its range of amenities (including bath robes, beach towels and beach blanket), comfortable accomodation and stunning location make it the ideal place to take a break from the daily routine and to get lots of rest as you anticipate the arrival of your little one.
Read Reviews of the Garden by the Sea B&B at TripAdvisor
Visit the Garden by the Sea B&B Website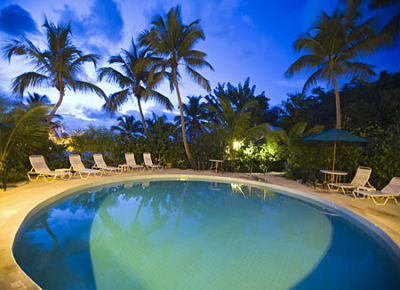 The Sugar Mill Hotel
P.O. Box 425
Tortola
British Virgin Islands
The award-winning Sugar Mill is set amid stunning tropical gardens on the island of Tortola. Small, intimate and exquisitely romantic, the resort offers excellent cuisine in the perfect setting – it was actually named "one of the most romantic dining rooms in the world" by Conde Nast concierge.com.
A circular freshwater swimming pool provides a relaxing spot at which to while away the hours and the resort's small beach boasts an natural reef, so the daddy-to-be can enjoy a little snorkelling whilst mommy relaxes.
The Sugar Mill offers a range of 'extras' in addition to its bed and breakfast or 5 star all inclusive deals - there is the option to 'customize' your vacation just the way you like it, ensuring your have the babymoon break of your dreams.
Read Reviews of the Sugar Mill Hotel at TripAdvisor
advertisement

Pregnant women should consult their physicians prior to having any spa treatments and should work only with therapists specially trained in prenatal treatments.

Package features subject to change. Please verify features directly with the facility at the time of booking.
Home

›
Destinations
› Virgin Islands