Babymoon 101 and Babymoon Ideas
FTC Disclosure: If you make a purchase via a link on this site, I may receive a small commission. There will be no added cost to you. Thank you!
Have questions about planning your babymoon?
Looking for unique and budget friendly babymoon ideas?
We've got the answers!
From choosing a destination, to determining the best time to take your pre-baby vacation, to tips for babymoon travel, we have the information you need to plan your perfect getaway.
If you're an adoptive parent-to-be, click here for babymoon information specific to adoption.
When to Babymoon
For most pregnant women, the second trimester is the most pleasant time to travel. By this time, the nausea of the first trimester is hopefully a distant memory and the discomfort of the third trimester is yet to come. According to the American College of Obstetrics and Gynecology, the safest time for a pregnant woman to travel is between 18-24 weeks.
While the second trimester may be the optimum time to travel, that doesn't mean you can't travel during the rest of your pregnancy!
But do be sure to talk with your doctor before planning any trips, particularly if you choose to travel in the first and third trimesters as there may be more safety and comfort issues to consider during these times.
Read the guidelines for flying when pregnant
Say goodbye to aches and pains,
and get the rest you need...
Where to Babymoon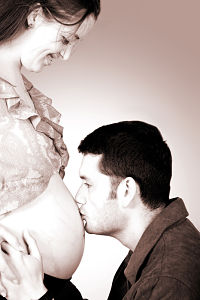 Parents-to-be have unlimited options when it comes to planning a babymoon getaway. From tropical islands to scenic mountains to bustling cities, there is a pre-baby vacation package to fit every couple. Some couples are comfortable traveling to exotic locations during pregnancy while others choose to stay closer to home.
The key is to choose a destination which appeals to both of you and will allow you to relax and enjoy your time together.
Consider the following when evaluating babymoon ideas and choosing your babymoon destination.
Try to minimize travel time. Remember, the goal of your babymoon vacation is rest and relaxation. Enduring a 6 hour layover or a 12 hour car ride on the way to your babymoon is not a relaxing start to your trip.
One of the nicest ways to relax whilst pregnant (which, after all, is the main purpose of your babymoon!) is to swim. The water tends to support your weight and really helps ease those aches and pains. So you may want to search for a babymoon package that either includes access to a pool, or is close to a public swimming area.
Ensure that you will have access to quality medical facilities near your babymoon destination should the need arise.
If you decide to travel internationally, consult with your physician regarding preventive measures such as vaccines and region-specific travel precautions.
Speak to your doctor if you plan to travel to a destination that's at high altitude. Whilst altitudes of 9,000 to 10,000 ft are generally considered safe for most pregnant women, your doctor may recommend avoiding them if you have a condition such as pre-eclampsia or pregnancy induced hypertension. Learn more about pregnancy and high altitude
If you're looking for a beach vacation and the travel time isn't too extreme for you, consider Florida - one of the most popular babymoon destinations - where temperatures are generally inviting year round!
Avoid traveling to hurricane-prone areas during the height of their hurricane season - the last thing you'll need is to have your restful babymoon cut short due to extreme weather!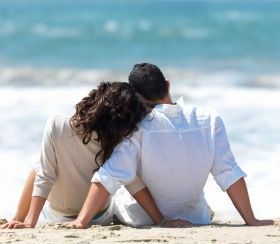 Search for babymoon getaway ideas
Babymoon Tips and Suggestions
If you're flying to your babymoon destination, check with the airline to see if they have any restrictions regarding pregnant passengers. Some airlines require a letter from your doctor stating that it's safe for you to travel, particularly if you're more than 32 weeks along.
Even if your airline does not require a doctor's letter, we strongly recommend getting one anyway! Should your plans be disrupted in any way, you may be required to change planes (and even airlines) - and you might find that the new airline enforces stricter regulations regarding flying during pregnancy than the original one.
When packing your bags, include the contact information for the nearest medical center along with the phone number of your obstetrician.
If your flight includes a meal, check that the ingredients are safe for pregnant women.
Consider purchasing trip cancellation insurance. Plans typically reimburse your non-reimbursed travel expenses if an emergency (death, sickness, airline strike, travel company bankruptcy, etc.) occurs right before or during your trip causing it to be canceled, interrupted or delayed. Many travel insurance plans list pregnancy as an exclusion for coverage so you need to read the fine print.
If you are traveling outside of the U.S. on your pre-baby vacation, verify that your medical insurance will cover you if you need medical care - many policies do not provide coverage outside of the U.S. If you aren't covered, consider purchasing travel medical coverage. Again, pregnancy is an exclusion for coverage on many policies, so shop carefully for this coverage.
Wear comfy shoes for your journey (particularly if you're flying) and bring snacks... as you have probably noticed, pregnancy can make you unpredictably hungry!
Top tip: If you were unable to get the state-of-the-art scan you wanted of your developing baby, why not check to see if the service is offered in the area in which you'll be spending your babymoon?
Review our helpful hints for more comfortable Babymoon Travel During Pregnancy
Say goodbye to aches and pains,
and get the rest you need...
Want to learn more about planning a babymoon?
Review our Babymoon FAQ

Don't forget a thing!
Find out what to pack for your babymoon

Ready to explore your babymoon options?
Search for Babymoon Ideas and Packages

Looking for more affordable options?
Babymoon Ideas on a Budget

Babymoons in the News
Articles about babymoon vacations.