Tips for Safe and Comfortable Travel During Pregnancy
FTC Disclosure: If you make a purchase via a link on this site, I may receive a small commission. There will be no added cost to you. Thank you!
Review our tips for safe and comfortable travel during pregnancy.
Whether your plans include travel by car, plane or cruise ship, these suggestions from former moms-to-be will help make your trip more enjoyable.
Say goodbye to aches and pains,
and get the rest you need...
Travel By Plane
Flying to your babymoon destination allows you to choose a location a little further from home, or even overseas. But is flying - particularly long distance - really an option for mommies-to-be?
The good news is that flying during pregnancy is considered to be safe in the majority of cases. It's important to check with your doctor, but in a healthy pregnancy there should not be any problems at all with air travel.
We discuss this subject in depth - along with information about the safety of security screening equipment and LOTS of tips for a safe and comfy flight - on our Flying When Pregnant page.
Travel by Car
Try to limit travel time to a total of 5-6 hours.
Take frequent breaks. Try to take a short walk or do some stretches to increase blood circulation.
Wear your seat belt, even if your car has an air bag. Make sure that you use both the lap and shoulder belts for the best protection of you and your baby.
On longer rides, bring along an extra pillow to provide support for your back.
Pack some snacks and beverages to take along.
Travel by Cruise Ship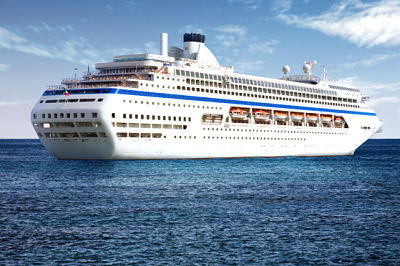 Check with the cruise line in advance to ensure there is a healthcare professional on board in case of complications.
Review the cruise route and ports of call to ensure that you'll have access to modern medical facilities if needed.
Ask your doctor about safe medicines for calming seasickness. Consider using seasickness bands when you travel during pregnancy. The bands use acupressure to help ward off motion-related nausea.
If you are concerned about seasickness, book a cruise on a larger ship and try to reserve a cabin located mid-ship where motion may be less severe.
Be sure to verify the cruise line's rules regarding pregnant passengers. Most will not allow passengers who are beyond their 25th week of pregnancy and a few have even more stringent guidelines.
If your cruise line offers online check-in, definitely take advantage! Online check-in means less forms to fill out at the pier which gets you out of line, off of your feet and onboard your cruise faster.
On embarkation day, pack a small carry-on bag with a change of clothes, a swimsuit and suntan lotion. This way, you don't have to wait until your checked luggage is delivered to start enjoying your babymoon cruise.
New to cruising? Read why cruise vacations are so popular.
---
Still have questions about traveling whilst pregnant?
Read what the American College of Obstetricians and Gynecologists has to say about Travel During Pregnancy
Learn about pregnancy and high altitude
---
The tips provided here are for informational purposes only and should not be construed as medical advice. Always talk with your doctor before planning to travel during pregnancy.
Search our Babymoon Destinations

Discover The Safest Sunscreens During Pregnancy