Babymoon Cruise Vacations
FTC Disclosure: If you make a purchase via a link on this site, I may receive a small commission. There will be no added cost to you. Thank you!
Cruising is a popular vacation choice for many people. In fact, according to travel industry estimates, 80% of people who take a cruise end up taking another one. Cruise vacations often represent a great value because the price of the cruise includes accommodations, fabulous cuisine, entertainment and many onboard activities.
Say goodbye to aches and pains,
and get the rest you need...
Appeal of Cruises for Babymooners
The whole idea of a babymoon vacation is to relax and enjoy some pampering and together time before baby arrives. A babymoon cruise is the perfect way to do just that! With multiple dining options, attentive service and an endless array of entertainment and activities, a cruise is one of the most carefree and convenient vacations you'll ever take. Throw in a few romantic, moonlit strolls on deck and you have the perfect babymoon getaway.
Typically, you won't find any specific babymoon cruise packages. Cruise lines have been slow to embrace the babymoon concept, most likely due to cruise line restrictions regarding pregnant passengers. Most cruise lines will not allow passengers onboard if they are entering or beyond week 24 of their pregnancy. So, while a cruise can make an excellent babymoon vacation, it needs to be planned for the first or second trimester.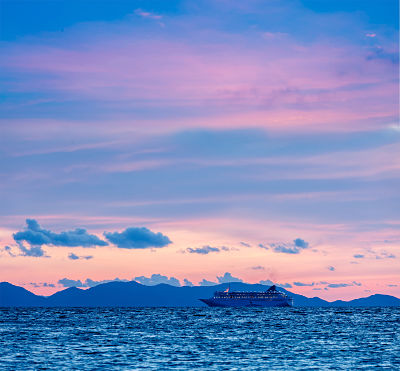 Choosing Your Destination
The Caribbean, Bermuda and the Bahamas are among the most popular cruise destinations. Part of the appeal is easily accessible and varied ports of embarkation. Also, with the exception of Bermuda, these destinations typically enjoy mild temperatures throughout most of the year.
Caribbean Cruises
Florida is still the most popular departure point for cruises to the Caribbean, however, there are a number of Caribbean cruises that also depart from Alabama, Louisiana, Maryland, New York, New Jersey, Puerto Rico and Texas.
Caribbean cruises are generally categorized geographically by ports of call as indicated in this table.
| Caribbean Cruise Destinations | Typical Ports of Call |
| --- | --- |
| Eastern Caribbean | Puerto Rico, St. Thomas, St. Maarten, Dominican Republic |
| Western Caribbean | Cayman Islands, Cozumel, Mexico, Jamaica |
Bahamas Cruises
Most cruises to the Bahamas depart from Florida, but it is possible to find departures from Charleston, SC, Norfolk, VA and New York. Bahama cruises are a good option for those who want to take a shorter cruise of three or four nights. Almost all cruises to the Bahamas dock in the ports of Nassau and/or Freeport. In addition, several ships include stops at a private island for a day of relaxation on the beach.
Bermuda Cruises
Cruises to Bermuda typically depart from New York, New Jersey, Baltimore, Philadelphia, Boston and Norfolk. A Bermuda cruise is a good option for those who enjoy spending time on the ship since almost all cruises to Bermuda include at least 2 days at sea.
Choosing Your Cruise
Consider choosing a large ship when cruising during pregnancy. Typically, people feel less motion on a larger ship. If motion is a concern, try to book a cabin that is located mid-ship where motion is less likely to be an issue.
Think about the ship's itinerary before booking your trip. Would you prefer to have a few days at sea to just relax and enjoy the onboard amenities or would you prefer to sightsee in a new port each day?
Booking Your Cruise
Cruise prices can vary by hundreds of dollars depending how you book your cruise. Finally, there's a way to shop for the best price without having to do all the legwork.
CruiseDirect is a leading online cruise travel company and works with the industry's leading suppliers. That means they are able to offer special rates... and they are so confident that their rates are the best around that they back up all the deals on their site with a price guarantee!
Check out their current offers...
7 Night Bermuda Cruise on the Breakaway from $179
3 Night Bahamas Cruise on the Disney Dream from $549
Last Minute Cruise Deals
Special Offers & Top 10 Weekly Cruise Deals
Or why not consider a Honeymoon Cruise
, packed with romantic extra touches, that you can customize to create your own babymoon cruise experience!
More Cruise Tips
If you're planning to cruise while pregnant, be sure to check out our comfort tips for a babymoon cruise

Tips for using sunscreen during pregnancy
Babymoon Package Search