Can I Use The Jacuzzi or Hot Tub on my Babymoon?
Many hotels and inns offering babymoon breaks advertise a room with a Jacuzzi part of the package.
But is it is safe to use a Jacuzzi when pregnant?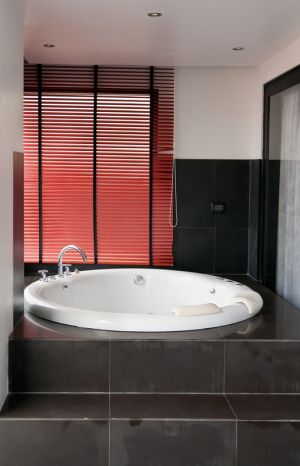 Actually, no.
Most medical resources advise against it – and saunas, hot tubs, whirlpools and steam baths are also on the list of no-nos.
The reason is common to all – there is a developmental risk to your unborn baby from a rising core body temperature... heat that you are unable to lose by sweating.
The risk is greater during the first 12 weeks of pregnancy – but most professionals agree that it's wise to avoid ALL of these leisure facilities throughout pregnancy.
And your baby is not the only one at risk. Those high temperatures can cause YOUR blood pressure to drop and make you feel dizzy, which is dangerous for you both.
Is a bath okay?
Yes, because your body is not completely submerged and also because the water cools down (unlike a hot tub, where the temperature is maintained). Of course, the temperature of your bath should be comfortably warm, not scalding hot!
Alternative babymoon treats
Another safe way to relax in the water during pregnancy is to take a dip in the hotel pool. To make you feel truly pampered (the ultimate goal of the babymoon experience), you could also enjoy a wonderful prenatal massage or a foot massage. So it's worth seeing if those options are available when booking your babymoon break.