Maternity Bathing Suits -
Feel Fabulous and Look Amazing!
FTC Disclosure: If you make a purchase via a link on this site, I may receive a small commission. There will be no added cost to you. Thank you!
A good maternity bathing suit is a 'must have' babymoon accessory if you're planning any time in or around the pool or beach.
And the good news is that there are some gorgeous swimsuits available that offer absolute comfort WITHOUT sacrificing style!
Browse our favorite swimsuits designed for expectant moms, which all offer support where needed whilst flattering your pregnant body... and look AMAZING on your babymoon!
We love this maternity bathing suit because - not only does it have a flattering halter neck style - but the top is long enough to cover the very tops of the thighs, which can sometimes be a slight (ahem) problem area during pregnancy.
The bottoms are designed to go right over your belly, which sounds uncomfortable but is actually quite the opposite! Nevertheless, you can fold them down if you prefer and they're equally comfy worn that way too.
The suit is very high quality and although the price tag may seem a little steep, this is a swimsuit that will see you right through your pregnancy in comfort and style. And as an extra plus, it's made in the USA!
Another gorgeous offering from Prego - and this is a maternity bathing suit that really celebrates your pregnant body!
The beautiful halter top has an adjustable built-in bra for plenty of support, whilst the bottoms feature side-ties that fasten below your bump. The ties, too, are adjustable, so this swimsuit will be comfortable at all stages of your pregnancy.
The simple touch of the bows on this maternity tankini (also available in black and navy) give it an extra special look, as does the subtle cut-out detail at the back.
This is a sexy, halter style maternity bathing suit that doesn't attempt to hide anything and merely enhances your beautiful body!
A stylish look at a great price!
With an attractive cross back, this swimsuit has an unusual and flattering design and perfectly accommodates a pregnant tummy.
The skirt enables you to cover up a little more, whilst still looking great and feeling comfortable!
Yay - a polka dot bikini! Perhaps not quite so itsy-bitsy-teenie-weenie, but that's what makes it so comfortable!
This USA-made swimsuit is both flattering and accommodating - an ideal combination! Considering its excellent quality, it's also very reasonably priced.
With comfortable over-the-belly bottoms, this babydoll style tankini looks pretty whilst offering a little more coverage than other bathing suits.
It has a tie-back halter so it is easy to adjust and the cups are lightly padded.
We just love the classic look of this flattering suit - what's more, it's excellent quality for a really great price!
Whilst the bottoms are a little lower cut than most maternity swimsuits, the top is long enough to keep yourself as covered as you wish.
If you plan to do a lot of swimming on your babymoon, this comfortable one-piece is just what you need.
Available in black or blue, it features soft cups and bust support, plus wide, adjustable shoulder straps to keep you comfortable as your pregnancy progresses.
If you're looking to get the most bang for your buck, then this is the maternity bathing suit for you!
With an attractive style that looks great both during pregnancy and beyond, the wonderfully named 'Fast Food' swimsuit is designed to allow you to discretely and comfortably nurse your baby. Its designers have thought of everything and the suit features a drawstring at the bust, allowing for the inevitable fluctuations in size!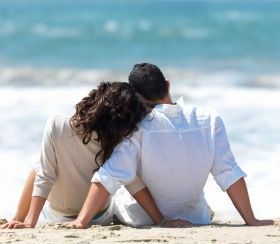 Browse our Babymoon Destinations
Want to learn more about planning a babymoon?
Babymoon 101 - Top Tips


Want to know whether air travel is safe for you right now?
Read the guidelines for flying when pregnant


Planning a babymoon in the sun?
Discover which sunscreens are recommended during pregnancy