What to Pack for a Babymoon -
A List of Everything You'll Need
FTC Disclosure: If you make a purchase via a link on this site, I may receive a small commission. There will be no added cost to you. Thank you!
This comprehensive babymoon packing list covers just about everything you'll need for a babymoon break, no matter where you're going or how you're getting there.
This list is designed with safety, comfort and a little pampering in mind. It will help you ensure that your pre-baby vacation is stress free and memorable for all the RIGHT reasons.
Pack like a neat freak, even if you aren't one.
The easy way to stay organized, then unpack in a snap!
Babymoon Essentials - For ALL Pre-Baby Getaways
Prenatal charts/medical notes
Emergency contact details for your doctor/gynecologist
Journal and camera - this is a special time to look back on, so be sure to take lots of pictures of your pregnant tum and record your thoughts, too, as you anticipate your baby's birth.
Water bottle - hydration is essential and you should make sure you have water everywhere you go. Unlike many plastic alternatives, the Klean Kanteen doesn't affect the flavor of the water, keeping it crisp and cool!
Suitable clothing - think comfortable and think LAYERS. Your temperature can fluctuate a lot when you're pregnant - dressing in layers helps you cool down easily. If you're lucky enough to be taking a lengthy babymoon (2 weeks+), then make sure your clothes will still be big enough to accommodate your growing bump. Include a couple of maxi dresses
, which you can dress up or down as required.
Comfortable shoes
Prenatal vitamins and any other medication
Insurance documents - and do be sure to check that you are fully covered. This includes checking for medical cover FOR YOUR BABY should he/she be born prematurely.
What to Pack For a Babymoon if Flying / Traveling Further Afield
Compression stockings - these are invaluable for keeping your circulation flowing healthily when you fly or spend a long time sitting down (in the car, for example). These Maternity Compression Leg Sleeves are particularly good, as they can be worn with open-toe shoes and come in a variety of colors.
Doctor's letter permitting travel - this is particularly important if you are flying or cruising. Even if your airline doesn't require a doctor's letter, get one and bring it anyway! There's always the risk you could be bumped to an airline that DOES require one.
Flip flops or easy-to-remove shoes. These are useful for two reasons - they allow for your feet swelling during travel, and they are easy to get on and off at security when flying.
A list of foods to avoid when pregnant - particularly if you are traveling overseas. Your doctor may advise avoiding certain foods that you WOULD have eaten at home.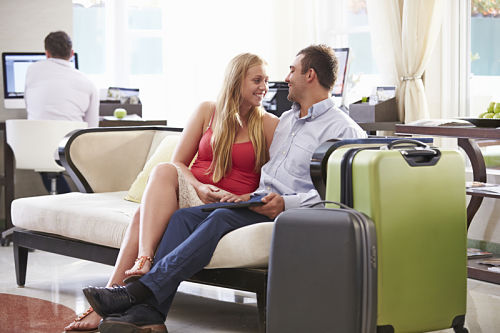 Optional Extras
Suitable sunscreen. You are more sensitive to sunlight during pregnancy. Click here to see which sunscreens are recommended by consumer.org for expectant moms.
Medication for common ailments like heartburn and hemorrhoids. They may not be affecting you now - but if they strike during your babymoon and you have nothing to treat them, they could ruin your trip!
Floppy hat
Cover up - for the beach.
Swimsuit - take a look at these attractive maternity swimsuits.
Pillows - a body pillow is great if you have space, or a small pillow for your back (especially if you will be stuck in the car for hours).
Spray mister - to keep cool. This mister includes a fan, so it's even more effective!
Bug spray. Avon's SKIN-SO-SOFT Bug Guard
is a great choice, and it's DEET free.
Favorite snack or food you crave - particularly if you are traveling overseas and might not be able to get it!
A good lotion - to keep the delicate skin on your expanding tum both moisurized and supple.
Something to relieve motion sickness. Even if you don't usually suffer from it, you might find that motion sickness affects you when you're pregnant. Sea-Band Wristbands
are a popular and safe option during pregnancy.
Belly casting kit - to create a lasting and unique memento of this stage in your life. Find out more...
An e-reader that works outdoors - some devices just don't work well in the sunlight! The Kindle Paperwhite
is perfect for the beach!
Say goodbye to aches and pains,
and get the rest you need...