Oklahoma Babymoon Packages and Romantic Getaways
FTC Disclosure: If you make a purchase via a link on this site, I may receive a small commission. There will be no added cost to you. Thank you!
Why choose an Oklahoma babymoon?
Oklahoma - whose name comes from the Choctaw phrase okla humma (which means red people) - is a diverse state, with scenery ranging from prairie and woodlands to stunning mountain ranges.
Offering plenty for visitors to see and do - or a beautiful environment in which to relax - Oklahoma makes a wonderful destination for your babymoon getaway.
Aaron's Gate
Guthrie, Oklahoma
Aaron's Gate Country Getaways comprises 4 luxurious country cottages, designed to afford you the utmost comfort and privacy on your babymoon vacation.
Each has its own distinct 'flavor', but all cottages offer a range of features, including king sized canopy beds, sitting room with sofa, fully equipped kitchen, robes and toiletries, porch or outside deck with seating and parking. The components of a special breakfast are provided for you, with a menu on the counter to help you prepare breakfast at your leisure. A bottle of "to-die-for" Vanilla Butter Sauce is included to pour over your fresh waffles and pancakes!
Innkeepers Gary and Martha have created a special babymoon package to ensure your stay is as memorable as possible. It includes..
Couples massage (his-deep tissue, hers-pre-natal)
Rose petals
Strawberries & Crème
Non-alcoholic sparkling wine
New Baby gift basket
Late check-out, which means extra time to relax together
Read reviews of Aaron's Gate at TripAdvisor
Arcadian Inn
328 E 1st St
Edmond
OK 73034
Also owned by innkeepers Gary and Martha of Aaron's Gate (above) is the Arcadian Inn - a bed and breakfast with 8 guest rooms in 3 buildings. Priding itself on providing the ultimate romantic getaway, the Inn offers breakfast served privately in your guestroom, ensuring your "quiet time" together is as undisturbed and as peaceful as possible.
The breakfasts themselves are sumptuous, including delights such as fresh fruit with homemade sauces, savory egg dishes, and waffles and pancakes with homemade Vanilla Sauce.
Should you wish to get out and about during your stay, there are plenty of local attractions to enjoy, including theatres, museums, and unique shopping in downtown Edmond.
The "Last Fling Babymoon" (also featured at Aaron's Gate, above) includes:
Couples massage (deep tissue for him, pre-natal for her)
Rose petals
Strawberries & Crème
Non-alcoholic sparkling wine
New Baby gift basket
1pm check-out
Read reviews of the Arcadian Inn at TripAdvisor
Two Hearts Inn
W. Edmond Rd.
Edmond, OK 73003
Voted winner of the 2009-2010 "Best Bed and Breakfast in Oklahoma City" by Oklahoma magazine, the Two Hearts Inn has 7 individually and lavishly decorated suites, designed to make you feel pampered and extra special!
Built upon the philosophy of "Faith, Family and Friends", the Two Hearts Inn started out as a tea room and gradually evolved into a bed and breakfast specifically designed to "renew, relax and rekindle couples and relationships". What an ideal venue for your babymoon!
Whilst the Inn doesn't have a dedicated babymoon package, it offers a variety of romantic getaways that would fit the bill perfectly. My favorite is the "Deluxe Romantic In-Room Picnic - With Dessert" Package which includes a picnic for two ready in your room when you arrive, for you to enjoy in your room or take outside on the beautiful grounds.
Add to this the "I Love You Berry Much" package - which includes one dozen long stem red roses and chocolate dipped strawberries and cream - and you have everything you need for a blissful babymoon break.
Read Reviews of the Two Hearts Inn at TripAdvisor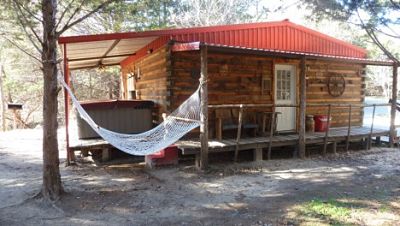 River of Love Cabins
Thackerville, Oklahoma, 73459
Could there be a more appropriate location for your babymoon than the "River of Love Cabins?"
Located in Love County and nestled near the bend of the Red River in Thackerville, the River of Love hand-crafted log cabins are situated on 60 acres of privately owned land. Adjoined by over 3000 acres of wildlife reservation property, the cabins provide the perfect base from which to enjoy the exquisite natural beauty of the area.
There are 5 romantic cabins to choose from, all with 2 person tubs (please not that Jacuzzis are not recommended for expectant moms), fully equipped kitchens, TV, radio, grill, fire pit and more.
There are all kinds of "extras" available for you to build your perfect babymoon break. These include...
Romantic catered Picnic basket for two
A delicious dozen of Chocolate covered strawberries
Fresh cheese and fruit tray
Private enjoyable in room one hour massages
Fresh bouquet of flowers
Sleep-in with a noon checkout! If you need some extra time a late checkout is a must!
His or Her Robes
Read Reviews of the River of Love Cabins at TripAdvisor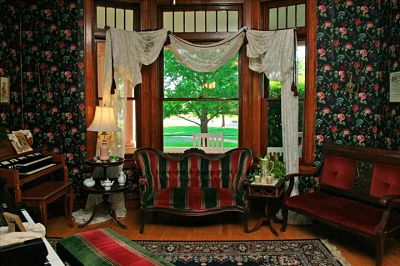 The Grandison Inn at Maney Park
1200 N. Shartel
Oklahoma City
OK 73103
Chosen as one of the top 15 inns in the US for honeymoons and anniversaries in 3 recent consecutive years, the Grandison Inn is the perfect destination for your romantic "last hurrah".
One of the city's most beautiful historic mansions, the Grandison inn has 8 uniquely themed bedrooms, each with private baths. The main parlor, music parlor and dining rooms retain their original Victorian splendor, providing a charming setting in which to unwind and reconnect as a couple.
The inn offers a range of amenities to help you create your ideal "babymoon package". These include...
Victorian Haven - Chocolate dipped strawberries, complimentary champagne, floating candles and rose petals for the Jetta Tub.
Honeymoon Hideaway - Chocolate dipped strawberries, complimentary champagne (you may prefer a non-alcoholic beverage for the mommy-to-be), rose petals and floating candles for the Jetta Tub, a basket of pampering toiletries and breakfast in bed!
Candlelight Dinner for two
Wine and Cheese Basket
Massages and other Spa Services
...and lots more.
Find the best deal, compare prices, and read reviews of the Grandison Inn at TripAdvisor

Shiloh Morning Inn
2179 Ponderosa Road
Ardmore
Oklahoma 73401
The Shiloh Morning Inn offers the ultimate escape from everyday life, with 73 acres in which you're free to enjoy the beauty of nature.
If relaxation is your goal, however, then you can unwind in your beautiful, private cottage and take the time to enjoy each other as a couple.
The inn has four cottages, each individually decorated and with a variety of luxurious features. The Roadrunner Hideaway is particularly suitable for babymooners, featuring a living room lined with windows facing the woods, giving you a wonderful feeling of privacy and seclusion.
Lake Murray State Park and Chickasaw National Recreation Area are both within a 20 to 30 minute drive of the inn, or you can enjoy boutique shopping, museums, theaters and spas at nearby Ardmore.
The "Romantic Night Inn" makes an ideal babymoon package and allows you to stay within the comfort of your cottage all evening. It includes...
Chocolate dipped strawberries
One Dozen Roses
Dinner served in your private quarters
There are also "extras" available, including commemorative champagne flutes, balloon bouquet and embroidered robes.
Find the best deal, compare prices, and read reviews of the Shiloh Morning Inn at TripAdvisor
Holmberg House
766 DeBarr Avenue
Norman, OK 73069
Built in 1914 and located in the DeBarr Historic District in Norman, Holmberg House is a small bed and breakfast offering a very personal service and excellent attention to detail.
The inn is peaceful and serene, with a calming koi pond and a porch described by many as "the best in Norman". Start the day with a gourmet three course breakfast, then while away the hours perusing the local museums or shopping in downtown Norman. Alternatively, take the opportunity to relax in your cozy, comfortable room and soak up the charm of this 100 year old home with all the comforts of today!
Enjoy a very special babymoon by ordering the "Romance Package" which includes...
Plush bathrobes
Bubbles for the bath
Fresh flowers
Chocolate covered strawberries
Fresh fruit or cheese
Complimentary bottle of champagne (although you may prefer something non-alcoholic for the mommy to be!)
You may also wish to take advantage of the inn's concierge service and arrange for a spa treatment for two... ensuring that the mom-to-be gets the pampering she deserves!
Read Reviews of Holmberg House at TripAdvisor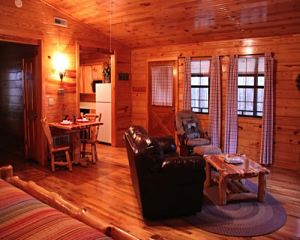 Eagle Creek Escape Guest Cottages
68438 Eagle Creek Drive
Smithville, OK 74957
Your babymoon is the ideal opportunity to escape to a private, couples only destination... and the Eagle Creek Escape Guest cottages are absolutely perfect for relaxing, reconnecting and making the most of the peace and quiet before your little one arrives!
Located in a mountain setting along Eagle Creek in Eastern Oklahoma's Kiamichi Mountains, these beautifully decorated cottages - offering either a lakeside or creekside view - offer a luxurious base from which to enjoy the area's stunning natural beauty. Featuring leather furnishings, king sized beds with top of the line linens and fully equipped kitchens, they are private and very romantic, providing the perfect hideaway for two!
Whilst the mommy-to-be enjoys some quality 'me' time, the daddy-to-be may enjoy a little fishing, with stream and private lake fishing available right on the property. Local attractions include Beavers Bend State Park, Beech Creek Botanical area, antique stores and restaurants.
Read Reviews of Eagle Creek Escape Guest Cottages at TripAdvisor
Pregnant women should consult their physicians prior to having any spa treatments and should work only with therapists specially trained in prenatal treatments.

Package features subject to change. Please verify features directly with the facility at the time of booking.