Nevis Caribbean Babymoon Packages
FTC Disclosure: If you make a purchase via a link on this site, I may receive a small commission. There will be no added cost to you. Thank you!
If you're seeking a tranquil and serene Caribbean babymoon, then check out Nevis. Nevis is a nature lovers' paradise offering lush flora, a tropical rain forest, magnificent reefs and even an extinct volcano. Lying 200 miles south of Puerto Rico, this 36 square-mile island is an unspoiled paradise. You won't find any high-rise hotels on the island. Nevis prohibits any buildings taller than a coconut palm tree.
Want to know whether air travel is safe for you right now?
Read the guidelines for flying when pregnant


Say goodbye to aches and pains,
and get the rest you need...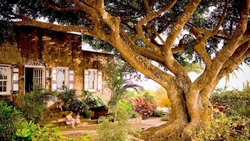 Montpelier Plantation
Nevis, West Indies
This 30 acre tropical retreat is a former 18th century sugar plantation. All 17 rooms/cottages at this boutique hotel have private verandas overlooking the sea and hillside. Spend your days relaxing on the private beach, strolling through the tropical gardens and basking in the warm hospitality of the attentive staff.
The Montpelier Plantation offers a Romantic Getaway package - 'Honeymoon Bliss' - that would be an ideal babymoon package too! It includes:
7 nights in a Garden Suite
Freshly prepared breakfast
Sparkling wine and chocolate (on arrival) - you may prefer to request a non alcoholic beverage
Couple's massage (60 min)
Picnic lunch for two, any day on the private beach
One gourmet candlelight dinner for two in the exclusive Mill Privée restaurant and one at the Restaurant 750
The Mount Nevis Hotel
Shaws Road
St. James Parish
Saint Kitts and Nevis
This unique, romantic resort is the perfect destination for a low-key, Caribbean babymoon vacation. Located on 17-acres of Round Hill Estate, The Mount Nevis Hotel offers sweeping views of the Caribbean Sea and St. Kitts.
Whilst this family-run hotel does not offer a traditional babymoon package, it does offer an extra-special romance package, including
5 nights in the Ocean View Suite
Romantic dinner for two
In-room couples massage
Additional night in the Ocean View Suite for free!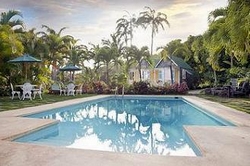 The Hermitage Plantation Inn
Stonyhill, St Kitts and Nevis
A boutique, family-run hotel on Nevis, The Hermitage is ideal for a quiet, private babymoon, away from the bustle of larger hotels.
Its 15 rooms are scattered throughout the garden, delightfully and colorfully decorated and creating a romantic, fairy-tale atmosphere. The hotel's restaurant serves the finest fresh foods, delivered by local farmers and fishermen, and the gardens, beaches and pool allow you plenty of opportunities to simply unwind and soak up the gorgeous scenery.
This charming hotel doesn't offer a babymoon package as such, but the owners invite you to contact them via email or their website for more details about their hotel and to discuss your specific requirements.
Find the best rates at The Hermitage Plantation Inn
Pregnant women should consult their physicians prior to having any spa treatments and should work only with therapists specially trained in prenatal treatments.
Package features subject to change. Please verify features directly with the facility at the time of booking.