Idaho Getaways for your Babymoon
FTC Disclosure: If you make a purchase via a link on this site, I may receive a small commission. There will be no added cost to you. Thank you!
The Roosevelt Inn
105 East Wallace Ave
Coeur d'Alene, ID 83814
The Roosevelt Inn combines luxury with old world charm and excellent hospitality.
Located in beautiful downtown Coeur d'Alene, this grand brick building was the first permanent schoolhouse established in 1905, and it is now It's the perfect babymoon destination in Idaho.
There are many local attractions to enjoy, from outdoor concerts at certain times of year, to art walks and theaters. Dad-to-be can take in a round of golf on the Coeur d Alene Resort championship course. And a relaxing cruise on the lake is a great way to start or finish your day.
Alternatively, you may prefer to simply relax in your comfortable accommodation and leave the cares of the world behind.
For the ultimate indulgence, consider the Starry Starry Night package for your babymoon, which includes:
A two-night stay in a Premiere Suite
A fabulous 2-course breakfast with buffet each morning
A limousine for your evening transportation
Dinner for two at Fleur De Sel
A drive to Higgins Point; a small hill surrounded on three sides by beautiful Lake Coeur d'Alene.
A Picnic basket complete with champagne, glasses, chocolate dipped strawberries, candles, and blanket.
Rose petal strewn bed, done at evening turn-down service
Rose Greeting upon arrival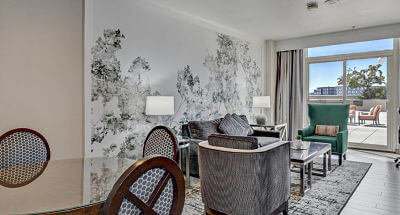 The Grove Hotel
245 S Capitol Blvd
Boise ID 83702
The Grove Hotel is the only AAA Four Diamond full-service hotel in Boise.
It offers stunning views of the Boise foothills and provides a tranquil sanctuary within the heart of the city.
The airy, comfortable rooms are beautifully designed and offer exceptional views of the Boise skyline.
Whether you spend your days enjoying the shopping and attractions the city has to offer - or simply relaxing and unwinding in your room - be sure to end the evening with a fabulous meal at Trillium, the hotel's in-house restaurant (which is also open for breakfast and lunch).
Whilst the Grove does not have a dedicated babymoon package, the hotel's 'Romance Package' would be ideal and includes:
$50 dining credit to Trillium Restaurant for two (or if preferred, use toward room service or food in The Bar)
A bottle of champagne or sparkling cider
Chocolate truffles
Fresh strawberries
Ida-Home B&B
16374 W. Riverview Drive
Post Falls, Idaho 83854
With just 4 luxurious and beautifully decorated rooms, the IdaHome B&B offers you an intimate and romantic atmosphere in which to unwind together.
Recently named the 'Reader's Digest Most Charming Small Town B&B in Idaho', the inn is ideally situated near Coeur d'Alene, between scenic prairies and wooded mountains. This allows you to enjoy the many attractions of downtown Coeur d'Alene... or to simply bask in the tranquility of the inn itself and soak up the beauty of your suroundings.
The IdaHome offers many 'additions' when you book a stay, helping you build a dream babymoon break.
The available additions include:
Flower arrangements
In-house massage (from April to September)
A Welcome Package, including cheese, crackers and sparkling Cider
Chadsworth and Haig Robes, Fuller Soaps and Comphy Sheets
Pregnant women should consult their physicians prior to having any spa treatments and should work only with therapists specially trained in prenatal treatments.

Package features subject to change. Please verify features directly with the facility at the time of booking.