Ontario Babymoon Packages
FTC Disclosure: If you make a purchase via a link on this site, I may receive a small commission. There will be no added cost to you. Thank you!
Choose Ontario for your babymoon break and experience the perfect blend of natural beauty, vibrant cities, and serene lakeside getaways.
It offers a diverse range of experiences and a peaceful ambiance for you to relax and celebrate before your baby arrives.
Ste. Anne's Spa
1009 Massey Road
Grafton
ON, K0K 2G0
Experience the art of relaxation at Ste. Anne's Spa - an unpretentious, welcoming country property located in the Northumberland Hills.
Guests are invited to "let down their hair, slip into a robe and leave their troubles at the door" and the warm and friendly atmosphere really does encourage you to put aside your daily cares and be yourself.
There is a range of accommodation available for your babymoon break, from the 15 rooms in the Main Inn - which feature private bathrooms and fireplaces - to the uniquely decorated and romantic spa cottages.
Whilst there is no specific babymoon package, there are various 'getaways' on offer, plus a range of 'extras' to make your pre-baby vacation truly memorable. These include:
Private Chef Experience


Fresh cut flowers


Chocolate-covered strawberries


Garden tours


Complimentary boutique services


Golfing for the dad-to-be
Read Reviews of Ste. Anne's Spa at TripAdvisor
Couples Resort
139 Galeairy Lake Road
Ontario
Why not celebrate an all-inclusive babymoon in exquisite luxury at the 5 star Couples Resort, where everything is designed just for the two of you?
For the ultimate peaceful interlude before two becomes three, this couples-only resort offers outstanding accommodations, exceeding 5 star/5 diamond ratings in terms of room size, amenities AND facilities.
Providing the perfect place to unwind and reconnect, all rooms feature a romantic wood-burning fireplace and private balcony, with 2 padded chaise longues.
Surrounded by breathtaking wilderness, the resort sits on the shores of Galeairy Lake and the Madawaska River.
Enjoy the pure air, romantic strolls in secluded forests and the pristine waters of the area as you await the coming birth of your little one.
The Romance Getaway would be perfect for a babymoon break and includes:
An all-inclusive stay with gourmet meals by the International Chef and his Brigade


Breakfast in bed


Pay a little extra and add Chocolate Truffles or Massage Oil and Bath products (please visit the hotel's website on the link below for more details)
Read Reviews of Couples Resort at TripAdvisor
Read more about this all-inclusive romance package
Say goodbye to aches and pains,
and get the rest you need...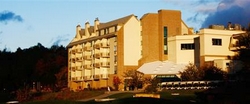 Hockley Valley Resort
RR #1
Ontario, Canada L9W 2Y8
Hockley Valley Resort is a breathtaking hideaway just 45 minutes outside of Toronto in the scenic hills of Headwater.
This luxurious retreat is the perfect setting for a relaxing babymoon vacation.
Indulge in some prenatal pampering at The Spa, the resort's full-service European-style spa.
The Hockley Valley Resort offers a variety of activities and amenities for your special getaway including:
Award-winning cuisine


Elegant European Spa


Indoor swimming pool


18 hole championship Scottish Links golf course


14 ski/snowboard runs


Outdoor seasonal activities
Read Reviews of Hockley Valley Resort at TripAdvisor
Learn More About Hockley Valley Resort
Eganridge Inn and Spa
3 Fenelon Falls
Ontario
The majestic Eganridge estate overlooks Sturgeon Lake in the Trent-Severn waterway and is surrounded by natural beauty.
From the call of the loons in the morning to the stunning lakefront sunsets in the evening, a stay at this Inn and Spa ensures you really do 'get away from it all' and leave feeling refreshed and rejuvenated.
An impeccable golf course provides entertainment for Dad, whilst the mom-to-be can enjoy a pampering session, selecting treatments from the Inn's extensive spa menu (there are men's treatments, too, in case Dad feels left out!).
Whilst Eganridge doesn't offer a traditional babymoon package, it DOES offer a range of alternative packages that would really fit the bill for a perfect pre-baby getaway.
The 'Romance Package', for example, includes such treats as fresh cut flowers and chocolate dipped strawberries, whilst the 'Spa and Dinner' package checks all the boxes for an expectant couple seeking the ultimate in relaxation before baby comes along!
Read reviews of Eganridge at TripAdvisor
Read more about the romantic getaway packages at Eganridge
The Manse
10 Chapel Street
Picton
Ontario K0K 2T0
This beautiful, historic Inn is located in Picton, in Prince Edward County.
Nearby conservation areas and Provincial parks allow you to enjoy the natural beauty of the region, whilst the inn itself offers landscaped gardens, a tranquil pond and waterfall, plus an outdoor salt water pool and hot tub.
The inn's luxurious rooms are individually decorated, featuring queen size beds, luxury linens, charming gas fireplaces and private spa-inspired ensuites.
Fine food is a particular highlight of the Inn, with a hand-crafted menu prepared by Chef Chris Wylie using the freshest County ingredients.
The Inn's 'Romance In the County' package is perfect for babymooning couples and includes
Two nights accommodation


Sumptuous breakfast each morning


Flowers in your room


A 4 course dinner for 2


Optional extras - including a chauferred wine tour of the local wineries and a picnic lunch to take to the beach
Read Reviews of the Manse at TripAdvisor
Read more about the Manse Romance Package
Pregnant women should consult their physicians prior to having any spa treatments and should work only with therapists specially trained in prenatal treatments.

Package features subject to change. Please verify features directly with the facility at the time of booking.