South Carolina Babymoons & Charleston Resorts
FTC Disclosure: If you make a purchase via a link on this site, I may receive a small commission. There will be no added cost to you. Thank you!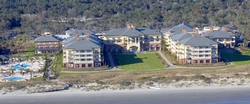 The Sanctuary at Kiawah Island Golf Resort
One Sanctuary Beach Drive
Kiawah Island, SC 29455
The Sanctuary is a luxury oceanfront resort and spa offering superior service, elegant and spacious guest rooms with spectacular ocean views and a luxurious, nature-based spa. Come experience the casual sophistication of this award winning resort.
The Sanctuary's two-night "Bliss Before The Baby" Package includes:
Luxurious Garden View accommodations - your spacious room (520 square feet!) includes a custom-made king bed, ergonomically designed and layered with luxurious Italian linens to provide an ultimate night's rest and comfort. We'll provide extra pillows for mom if needed!
Buffet breakfast for two daily - Jasmine Porch offers an impressive buffet sure to satisfy all of your cravings.
Couples massage - one 60 minute Maternity massage for the mom-to-be and one 60 minute Classic Custom or Sports massage for dad.
Dinner for two in Jasmine Porch
Welcome amenity including: soft book for baby, spa set for mom, celebration cigars for dad, coupon for free gift from Boutique Jolie with purchase
Selection of movies for a quiet night together
Romantic rose petal turndown
Find the best deal, compare prices, and read reviews of The Sanctuary at Kiawah Island Golf Resort at TripAdvisor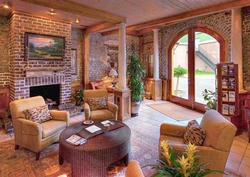 Andrew Pinckney Inn
40 Pickney Street
Charleston, SC 29401
This meticulously restored, boutique hotel is located in the heart of the historic district, overlooking the historic Charleston market area. Guests of the Andrew Pinckney Inn find horse drawn carriage tours, museums, art galleries, antique shops, along with world-renowned dining, just outside the front door. Be sure to take in the spectacular views from the hotel's rooftop terrace.
Craving some beach time? Folly Beach, Kiawah, Isle of Palms, and Sullivan's Island are all in close proximity to the Andrew Pinckney Inn.
Find the best deal, compare prices, and read reviews of the Andrew Pinckney Inn at TripAdvisor
Learn More About the Inn's Signature Sweetheart Package - Perfect for a Babymoon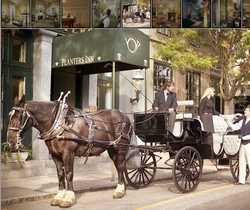 Planters Inn
112 North Market Street
Charleston, South Carolina 29401
The ultimate in elegance and refinement, Planters Inn is situated in historic Charleston and is recognized for both its luxury and impeccable service.
The Inn's "Baby's on the Way" package offers relaxation and rejuvenation in a beautiful and romantic setting.
The package includes:
A jar of pickles and chocolate covered strawberries on arrival
Special bathing ritual basket, filled with products from the Old Whaling Company
A slice of 12-layer Peninsula Grill Ultimate Coconut Cake® and a chilled bottle of sparkling apple cider delivered to your room
A keepsake copy of Good Night Charleston, a delightfully illustrated children's book
A snuggly, brand new Planters Inn Teddy Bear
A Signature Breakfast for two in the Planters Inn Courtyard or the Peninsula Grill dining room
Find the best deal, compare prices, and read reviews of Planters Inn at TripAdvisor
Say goodbye to aches and pains,
and get the rest you need...
Rhett House Inn
1009 Craven Street
Beaufort, SC 29902
Nothing says romance like "Gone With the Wind"... and nothing says "Gone With the Wind" like this award winning AAA four diamond antebellum Inn in the heart of Beaufort's historic Landmark District.
Oozing southern hospitality and charm, this Inn has played host to a slew of movie stars, including Tom Hanks, Gwyneth Paltrow and Sandra Bullock! Featured in the book "1000 Places to See Before You Die", this gorgeous Inn is conveniently situated just steps from the waterfront, with its variety of shops, restaurants and tours.
The beautifully appointed accommodations are stylishly furnished, supremely comfortable and include flat screen TVs, private baths and luxury robes.
Whilst the Inn doesn't offer a traditional babymoon package, the "Romance at the Rhett" package would be wonderful for a pre-baby getaway. It includes...
Two nights deluxe accommodations
Bottle of champagne (you may prefer to request sparkling cider for the mommy-to-be)
1/2 dozen roses in the color of your choice
Carriage tour through romantic downtown Beaufort
Afternoon tea, lemonade and cookies
Evening hors d'oeuvres
Homemade desserts before bedtime each night
Full Southern breakfast for two each morning
Find the best deal, compare prices, and read reviews of the Rhett House Inn at TripAdvisor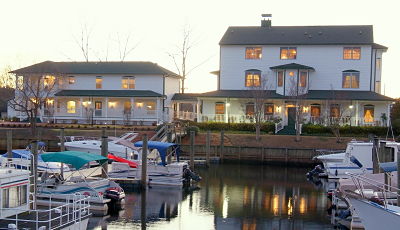 The Cypress Inn
16 Elm Street
Conway (Myrtle Beach Area), South Carolina
29526
The Cypress Inn has a delightful location, overlooking the Waccamaw River in Conway. Member of the Select Registry of Distinguished Inns and named best B&B in the Grand Strand area by the Travel Channel, the inn offers both the relaxation of its porch, lined with Carolina rockers, and the nearby attractions of Myrtle Beach.
The Innkeepers have a trio of pampering packages available, any one of which would make a wonderful babymoon. They would also be happy to customize a pampering package to suit your needs as expectant parents!
Find the best deal, compare prices, and read reviews of the Cypress Inn at TripAdvisor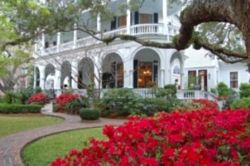 Two Meeting Street Inn
2 Meeting Street
Charleston
South Carolina 29401
Two Meeting street Inn is a historic, elegant Charleston B&B located in the South of Broad neighborhood. A focus of both artists and photographers from around the world, it boasts attractive period architecture and stunning surroundings... not to mention, of course, good old southern hospitality!
The scenery truly sets the stage for romance, with tree-lined streets leading to the graceful arches and distinctive turret of the Inn itself.
The nine comfortable rooms are individually and beautifully decorated, with luxury toiletries and cotton bathrobes. Enjoy a sumptuous breakfast either in the dining room, on the courtyard, or on the veranda - or have it brought to your room if you prefer. Follow this with a leisurely day enjoying Charleston's many attractions, or simply relaxing on the porch. Then indulge in a delightful afternoon tea of sweets and savories from the iconic Charleston cookbooks.
The Inn's "Divine Romance Package" is ideal for babymooners and includes...
A chilled bottle of French Rose champagne presented in a silver ice bucket, with two keepsake long stem champagne flutes with the Inn's signature logo (you may prefer to request sparkling cider for the mommy-to-be)
Six red roses, in a creative arrangement
A horse-drawn carriage ride through the historic downtown district
A silver tray generously filled with chocolate dipped strawberries, white chocolate fudge and dark chocolate sherry bars
Find the best deal, compare prices, and read reviews of Two Meeting Street Inn at TripAdvisor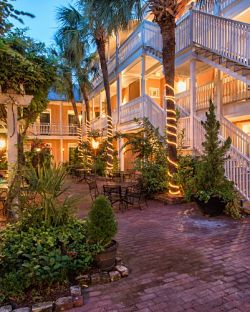 Elliott House Inn
78 Queen Street
Charleston
South Carolina 29401
Spend your babymoon at the Elliott House Inn and enjoy Charleston from the heart of its historic district.
This quaint and cozy hotel, shaded by old oak trees, has four tailored self walking tours beginning right at its doorstep, so it's easy and convenient to take in the sights!
The Inn is also right next door to 82 Queen, one of Charleston's oldest and most popular restaurants, from whom you can order room service lunch and dinner should you require them.
The Elliott House Inn's beautiful courtyard - surrounded by lush tropical plants, fountains and statues - offers the perfect spot to relax and watch the sun setting behind the church spires.
For your babymoon break, consider booking the "Romantic Retreat". It includes...
Accommodations for two nights
Box of chocolates
Fruit plate
Champagne (you might prefer to request sparkling cider for the mommy to be)
$75 gift certificate to 82 Queen Restaurant
Private carriage tour for two
Continental breakfast delivered to your guestroom or served in the courtyard
Find the best deal, compare prices, and read reviews of the Elliott House Inn at TripAdvisor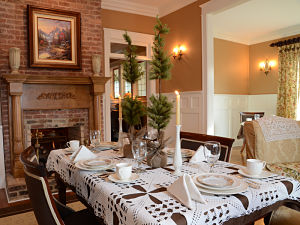 Park House Bed and Breakfast
221 East Park Avenue
Greenville
SC 29601
Located in downtown Greenville, within walking distance of historic Main Street, is the charming Park House Bed and Breakfast - a 100 year old home with gorgeous guestrooms, delicious breakfasts and unrivaled hospitality.
Specializing in relaxing retreats, the Park House B and B gives you the perfect opportunity to unwind in comfort, whilst still enjoying easy access to local museums, parks and restaurants.
With just four luxury rooms and 1 private cottage - each with its own fireplace - the atmosphere is cozy and intimate - just right for the two of you to spend some special quality time together. And the Couple's Getaway Package helps you truly create the perfect babymoon. It includes...
A delicious, gourmet breakfast each morning
Bouquet of roses or your favorite fresh flowers in your room upon arrival
Bottle of champagne or wine in your room (you might prefer to request sparkling cider for the mommy to be)
Box of gourmet chocolates or chocolate covered strawberries in your room
Afternoon wine and cheese
Optional extras include...
Private horse-drawn carriage ride through downtown
Spa services - Headquarters salon
Deluxe picnic basket for two customized to your preferences
Find the best deal, compare prices, and read reviews of the Park House Bed and Breakfast at TripAdvisor
---
Search our One-day South Carolina Babymoons for relaxing pregnancy massage and prenatal spa treatment options.
---
South Carolina babymoons and Charleston resorts package features subject to change. Please verify features directly with the facility at the time of booking.