Babymoon Reviews and Recommendations
Are you searching for the perfect babymoon destination?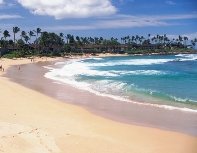 Read babymoon reviews and recommendations submitted by other Babymoon Guide readers.
You can also share your babymoon reviews or recommendations
Just click on the links below to read a review.




Don't have the time to research all of your babymoon options?
No problem! Save time and money planning your babymoon with Destinations to Travel™ - they'll take care of all the details for you!
Aruba Babymoon Second Time Around
From honeymoon to babymoon in Aruba.

---
Branson Babymoon and Romance
A relaxing victorian bed and breakfast retreat in Branson, Missouri.

---
Cape May, New Jersey Babymoon
A charming seaside village at the southern tip of New Jersey sets the stage for a romantic babymoon getaway any time of year.

---
Ventana, Big Sur California Babymoon
Romantic babymoon in scenic Big Sur.

---
Timber Cove, California Babymoon
A very unique and personalized babymoon experience.

---
Sonoma Coast Babymoon
A truly relaxing babymoon getaway.

---
Sedona Romantic Babymoon
L'Auberge de Sedona for a lavish Sedona getaway.

---
Disneyworld Babymoon
We chose to go to Epcot center and Disneyworld on our babymoon. We struggled to get pregnant and we were so happy. Both my wife and I loved Epcot center

---
Discovery Cove, Orlando Babymoon
We didn't go for an extravagant expensive package at a luxury hotel. Rather we stayed at a Homewood Suites in the area, and went to Discovery Cove in Orlando, FL.

---
Florida Keys Babymoon
For a babymoon, most importantly, you want relaxation, and to have as stress-free a vacation as possible.

---
Naples, Florida Peaceful Babymoon
My husband and I stayed at the Ritz Carlton in Naples, close to Vanderbilt Beach. We were pampered and simply relaxed our bodies and our minds for 6 days.

---
Maui Hawaii
The islands boast wonderfully fresh air and seawater and we choose to spend our vacation on the sunny side of the island.

---
Hawaii Big Island Babymoon
The surroundings are like being in the Garden of Eden and the service is spectacular. Lavish, lush and a place for love to be born.

---
Illinois Weekend Babymoon
Pampering and relaxation at a gorgeous mansion made for a memorable weekend babymoon getaway.

---
San Jose del Cabo, Mexico Babymoon
Sun, sand, surf and spa made this a perfect babymoon getaway.

---
Pocono Mountains Pennsylvania Babymoon
We rented a cottage from a Bed and Breakfast at Mountaintop Lodge. While there were Bed & Breakfast accommodations, we opted for the privacy of being detached from the house, in our own cottage room.

---
Pocono Mountains Pennsylvania Babymoon Caesars Resorts
The resorts are all inclusive with a wide range of suites to choose from.

---
Mansfield, Ohio Babymoon
The area has plenty to do, especially in the Mohican State Park. There are various hiking trails and scenic drives as well as other activities.

---
Santa Fe New Mexico Babymoon
Staying at the Eldorado hotel downtown was amazing. The room was spacious yet cozy and romantic.

---
Affordable Southern California Babymoon
A budget friendly babymoon in SoCal that doesn't skimp on luxury.

---
Hudson Valley New York Babymoon
The magic of Mohonk Mountain House.

---
Magnetawan, Ontario Babymoon
I highly recommend Woodland Echoes resort in Magnetawan, Ontario. This is where we went during my (extremely rough) pregnancy with our twins, and I loved it.

---
India Babymoon Rejuve Spa
This is in Bangalore city, India. It is located at the Grand Ashok, Bangalore.

---
Tahiti Babymoon For Ultimate Relaxation
The views in Tahiti are magnificent. The natives are very friendly. The weather was perfect in May. I truly recommend Tahiti to anyone for a babymoon.

advertisement

Find a Babymoon Vacation Package
Home

› Babymoon Reviews